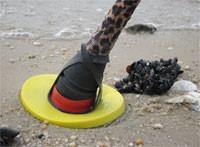 Fetterman Beach Tips™ Pullover Beach Tips (Pair)
Save

$-52.99
Free Shipping on all products within the continental US
Fetterman Beach Tip "pullovers" make walking on sandy beaches so much easier. Crutch tips normally sink several inches into sand with every step making walking arduous. Like snow shoes, Beach Tips spread the load over a large area so you can walk normally on the surface of the sand without shoulder drop. There is a built-in highly wet-slip resistant tread piece to increase traction. When not in use they flip-up and hang neatly onto the side of the crutch tip.
Fetterman Beach Tips come in two sizes so be sure you know the base diameter of your crutch or cane tip. Easy installation, no tools necessary. Fetterman Beach Tips will provide years of service if you rinse them in fresh water after each use and store them in the supplied opaque blue air-tight self-sealing bag.
Enjoy the beach and don't forget the sunscreen!
Price is for PAIR