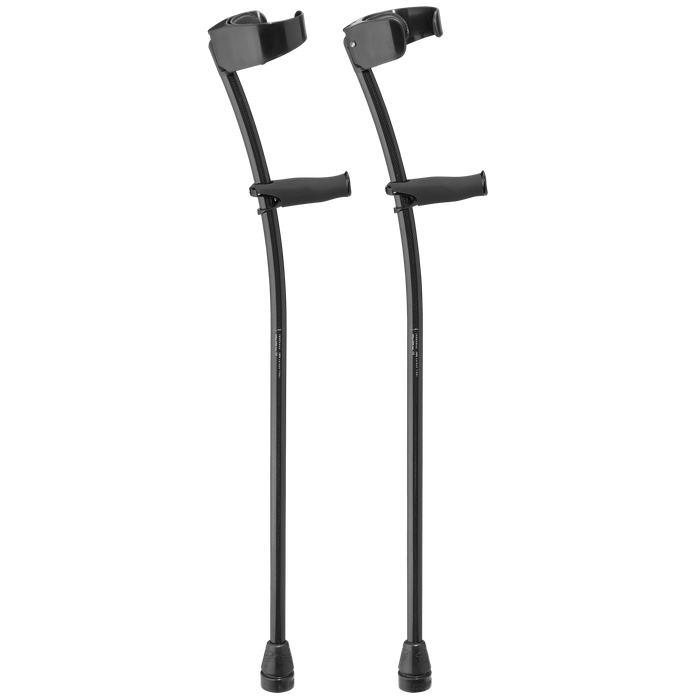 CUSTOM Black Phantom Ultra Lightweight Carbon Fiber Crutches (pair)
Save

$-100.00
Free Shipping on all products within the continental US
FINALLY! Crutches designed to maximize your comfort, support and stability! 
These elegant, curvaceous, lightweight Carbon Fiber crutches each weigh just 1 lb. Their unique curved shape and patented hand-grips help you avoid tendinitis. Both the carbon fiber body and handgrips are sourced from Indesmed in Spain. We measure and cut them to your size and customize every crutch with Fetterman elements you know and trust to maximize your comfort, support, and stability. I classify these as my "Dress Crutches." They are perfect for "light-duty" but I do not recommend them for rough and tumble use. That is why we build Fetterman LiteStix Titanium custom crutches.
We are now including our new magnetic KissGrips addition to the Indesmed handles (a $49.00 value.) Scroll down to read more about KissGrips. 
---
A collaboration between Spain's Indesmed and USA's Thomas Fetterman, Inc.
Few companies are better suited to collaborate and use real world experiences to innovate crutches.
An Indesmed founder, Rafael Vidal, was one of the few survivors of the serious Spanair plane crash in Madrid in 2008. Already a young engineer, his reliance on crutches during his recovery led him to a deeper understanding of the needs of long-term crutch users.
Thomas Fetterman has been using crutches since being struck with Polio in 1953. In 1988, he invented and patented a new crutch tip technology with a built-in shock-absorbing system. The overwhelming success enabled him to develop Performance Gel Filled Handgrips, Padded Leather Cuff Inserts, and finally LiteStix Arm Cuffs from injection-molded nylon.
The Black Phantom Carbon Fiber Crutches brings together the best each company has to offer. Indesmed's lightweight carbon fiber body and handgrips paired with Thomas Fetterman, Inc.'s LiteStix Arm Cuffs with Fetterman Padded Leather Cuff Inserts and your choice of Fetterman Tornado RT Rain Slip Resistant Crutch Tips or Tornado AIR Fatigue-Reducing Crutch Tips.
---
Customized to your specifications -- from cuff to tip.
We customize the arm cuff and post assembly and we cut the tubes to your exact requirements. (You provide measurements at checkout. We'll guide you through the process.)
We have made a new modification to Indesmed's "Black Phantom" crutches that I think you will like. Many clients have expressed their desire for a padded handgrip. Consequently, we removed the OEM silicon grip cover and replaced it with a closed-cell polyurethane pad, (manufactured by Poron) and Black Leather. Even though it is thin and lightweight, this pad delivers shock absorption and comfort. We include a second set with every purchase of Black Phantom Crutches.
We then install our LiteStix Arm Cuff to your correct size along with black padded leather cuff Inserts.
We also include a pair of black PVC Door Guards to protect the bottom 6" of the crutch from damage while holding doors open.
---
Plus KissGrips, our newest invention, included FREE!
KissGrips lock the crutches together in a goal-post configuration that enables them to be easily and securely leaned against walls, counters, and tables without sliding down and crashing to the floor. KissGrips are covered with a black highly reflective sticker that enhances nighttime safety.
---
Experience the carbon fiber difference for yourself! 
These Black Phantom Carbon Fiber Crutches are the most advanced and lightest custom forearm crutches in the world. They carry a 4-year warranty on the Carbon Fiber crutch body, Fetterman handgrips, and Fetterman LiteStix Arm Cuffs and posts.*
Price is for a PAIR and includes FREE KissGrips Magnetic Hand Grips ($49 value). Free Shipping & Handling within the Continental US.
Maximum user weight limit 250 lbs.
Item #: 930
Allow 4-8 weeks for delivery. As with all custom items, Carbon Fiber crutches are non-returnable.
Warranty: 4 years on carbon fiber crutch body,  Fetterman LiteStix Arm Cuffs, and posts. (Does not include handgrip pads, crutch tips, or padded leather cuff inserts.)
To correctly custom fit your crutches, we require specific measurements.
Click here to learn how to measure.