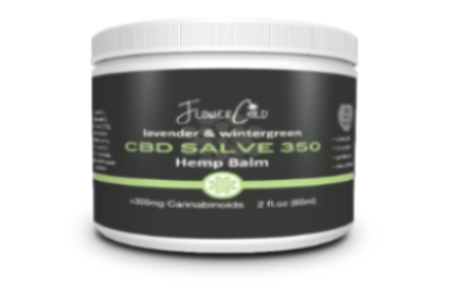 All Natural Arthritis Pain Relief Salve 350
Save

$-29.00
Free Shipping on all products within the continental US
I apply a small amount of this salve to my shoulders, arms, wrists and hands in the morning and typically that keeps me pain free for most of the day. Then at night before I go to sleep I apply it again and that gets me a good night of uninterrupted sleep.

I have tried several brands and have settled on FlowerChild because of its organic ingredients and 2 different strengths. 
Folks with sciatica and other intense nerve pain may not realize significant relief.
Jar Size: 2 oz.
Servings: 60
Directions: Rub a pea size amount on area affected as needed throughout the day
Activation Time: 1-2 hours
Ingredients: Grape seed oil, beeswax, hemp oil extract, comfrey, echinacea, plantain, rosemary, calendula, arnica, yarrow, lavender and wintergreen essential oils
FOR SALE IN THE UNITED STATES ONLY
I'm thrilled to share a note I recently received from a customer:
"Just wanted to update you on the magic ointment you sent me. It is absolutely fantastic. I use it every night when I go to bed on my sorest bits and I get instant relief. So effective."