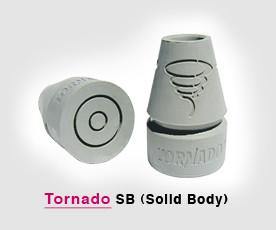 BLACK Tornado SB Solid Body Tips Clearance Items
Sold out
Free Shipping on all products within the continental US
Sold as-is. May have cosmetic imperfections but are fully functional.
Made with high-grade rubber for superior flexibility, better ground contact, and extremely longer wear.
These crutch tips are designed for less-active crutch users who want a tip with great traction and durability at a competitive price. We make them using number one grade natural latex rubber formulated with micronized silica for extreme toughness and wear.
Our formula has only 10% clay filler mixed-in versus 40-60% filler with other major brands. Inside the Tornado SB, there is a large 1-1/4 " diameter steel disk that is chemically bonded on both sides to the surrounding rubber body.
Because there is no Absorbalite™ gel inside, the Tornado SB will not protect your shoulders like its famous brother the Tornado GT. However, unlike ordinary tips, our steel disk can not be ejected through the sidewall of the tip and cause premature failure. Our Tornado SB tips have a pivoting action that enables more of the bottom of these tips to engage the ground even at steep crutch angles. Tornado SB. These tips out-wear ordinary tips 2-3 times over.

Tornado SB tips have a 2" base diameter and weigh 4.4 ounces each.
Fits crutch shafts from 3/4" to 1"
Item #: 942SB
Color: Gray
Price is for a PAIR of crutch tips
Please contribute just $5.00 to give a pair of super-durable Peace Crutch Tips to our fellow lifelong crutch users in Developing Nations. They will be grateful for a very, very long time.
Please go to our Peace Crutch Tip Program to donate...it only takes a minute.