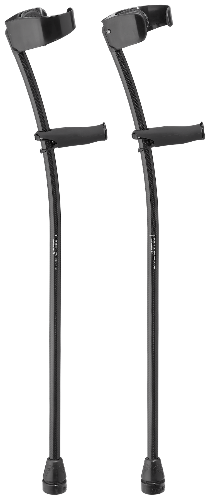 Order CUSTOM MADE FETTERMAN-INDESMED BLACK PHANTOM Ultra Lightweight Carbon Fiber Crutches
Save

$-1,050.00
Free Shipping on all products within the continental US
Price is for a PAIR and includes FREE KissGrips Magnetic Hand Grips ($49 value). Free Shipping & Handling within the Continental US.
Allow 4 weeks for delivery. As with all custom items, Carbon Fiber crutches are non-returnable.
Warranty: 4 years on carbon fiber crutch body, Fetterman LiteStix Arm Cuffs, and posts. (Does not include silicone handgrip covers, crutch tips or padded leather cuff inserts.)
To correctly custom fit your crutches, we require specific measurements. Click here to learn how to measure.