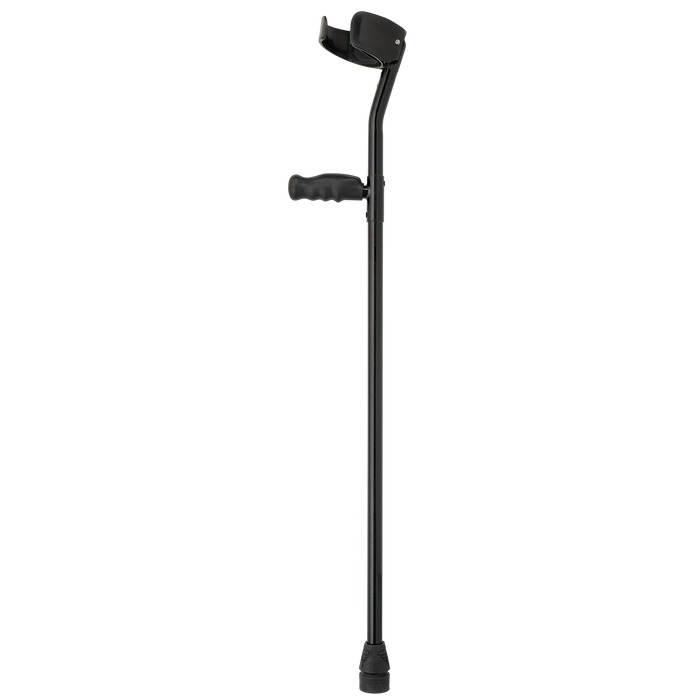 LiteStix Aluminum Custom Forearm Crutches
Save

$-750.00
Free Shipping on all products within the continental US
LiteStix aluminum custom forearm crutches are shock-absorbing, durable, silent and strong. We custom build to fit your exact needs. Need just one crutch or two crutches with different measurements? No problem, email us for information. Price here is for a pair using the same measurements.

LiteStix one tube construction will last years longer than ordinary adjustable forearm crutches because the hand grips are mounted on a collar & post made from extremely strong Chromoly Steel that, unlike an aluminum collar and post, will not fail catastrophically. Strong, safe and dependable!
The essential value of LiteStix Aluminum Forearm Crutches is the way they protect our upper bodies for the long haul. We cast approximately three times our body weight onto our hands, arms and shoulders with each step. Active crutch users walk 4,000 to 8,000 steps a day. That adds up to literally tons of negative ground impact forces jarring our bodies.
The crutches are available with your choice of Fetterman Tornado RT Rain Slip Resistant Crutch Tips or Performance RT Gel Rain Crutch Tips. These patented gel crutch tips have Absorbalite™ gel polymer inside with the ability to "eat shock" by transforming it into heat energy instead of transmitting it up the crutch shaft into our upper bodies. Reducing these negative ground impact forces will help mitigate overuse syndrome keeping us vertical into the future.
LiteStix Arm Cuff has a broad back to cradle the arm and provide a great deal of support. It tapers down at the front to minimize the appearance on the front of our forearm.  This newly designed LiteStix arm cuff has the lines of a race car. It took me over a year and $30,000.00 to produce this cuff. Made of solid black 606 Nylon, it is super durable and handsome. It hinges onto a machined nylon post. I prefer the side-opening style cuff because they hook over the forearm and hang on tight. This enables the active use of our hands without removing the crutch. For the die-hards I can also make the cuff front opening.
These revolutionary arm cuffs are available in small, medium, large and extra-large sizes for a proper fit. If one of your cuffs breaks within the 10 year guarantee period, we will send you a free replacement cuff and you just pay the postage.
Padded leather cuff inserts are a closed cell sponge wrapped in natural black leather and cushion the back of the forearm and absorb perspiration. Held in-place with Velcro, they are easily removed for swimming, showering or for extra cuff room to accommodate a bulky winter coat.
Performance gel hand grips provide your upper body with comfort and protection. Finger notches provide a good grip with minimal energy expenditure. Designed to fill the Palmar arch of the hand to reduce fatigue and add comfort. They can be used with either hand.
LiteStix Aluminum crutches have a 3 Year Guarantee covering all metal parts and the nylon cuff and post assembly, excluding tips, grips, cuff inserts and powder coating.

Black powdercoat finish. Price is for a PAIR. If you want to order just 1 crutch, email us for information.
Maximum user weight 250 lbs.
Please allow 4 to 6 weeks for delivery.
Our LiteStix Aluminum Custom Forearm Crutches can withstand the demands of extreme athletes, like this incredible skateboarder!