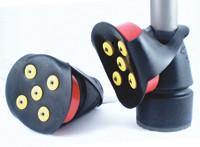 Fetterman Ice Tips™ Pullover Ice Tips for Crutches (pair)
Save

$5.30
Free Shipping on all products within the continental US
Fetterman Ice Tips "pullovers" provide effective protection from slipping and falling on icy surfaces. Here's what our customer Floyd S. has to say about them:
"I live in the middle of New York state where the winters are brutal with lots of ice and Thomas's tips have been a lifesaver!  They grip the ice like crazy and they stay sharp. I have a deck outside my backdoor that is really worn smooth and slippery when wet so it is a death trap with ice and these tips have kept me from falling more that once. They are worth every cent you pay for them." 
I invented Fetterman Ice Tips because I couldn't leave my house because of ice during the winter. Fetterman Ice Tips fit canes and crutches and work on the same principal as studded snow tires.
They are especially good when used in conjunction with the SpikyPlus footwear system that pullover shoes and boots. Fetterman Ice Tips come in three sizes so be sure you know the base diameter of your crutch or cane tip. The Medium ice-tips fit crutch base diameters up to 2". The Large ice-tips fit crutch base diameters up to 2 1/2". Easy installation, no tools necessary.
Color: Black / Red

Sold in pairs