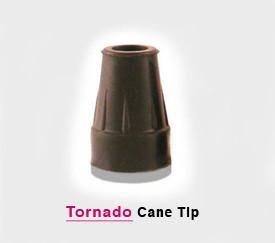 Tornado Cane Tips with Wet-Slip Resistant Tread (pair)
Save

$0.00
Free Shipping on all products within the continental US
Patented Highly Wet-Slip Resistant Tread Greatly Reduces Slipping Especially On Wet Surfaces.
I have noticed over the years that there are far more cane users than crutch users. I have talked with many of them and they have the same problem with wet smooth surfaces as I do using my crutches.
Many serious cane users swear by our Tornado Gel Rain Tip but most cane users prefer a smaller tip. So, in an effort to "share the love" I have developed three smaller sized cane tips that all have our highly wet-slip resistant tread adhered to the bottom for greatly enhanced safety.
Our durable Tornado Cane Tip tread was scientifically developed and tested using the English Wet-Slip Testing Machine. Repeated tests have demonstrated that Tornado Cane Tips are over 300% more wet-slip resistant than all other cane tips tested. While this tip is not completely "slip-proof" it will greatly reduce slipping on hazardous wet surfaces. If it prevents just one fall…isn't it worth it?
Tornado Cane Tips are available in three sizes to fit cane shafts that are 1/2", 5/8", and 3/4" diameter. They are sold in pairs to economize on shipping costs.
Note: Be sure to measure the diameter of your cane shaft with the tip removed.
The 3/4" cane tip is not suitable for crutches.