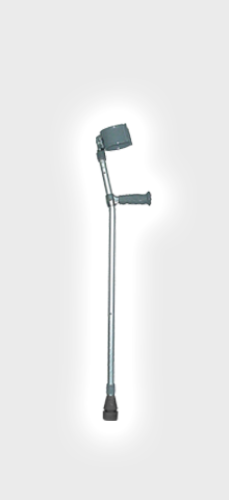 Lofstrand Heavy Duty Child's Adjustable Aluminum Forearm Crutches (pair)
Save

$-195.00
Free Shipping on all products within the continental US
Lofstrand crutches are a heavy duty adjustable forearm crutch that will hold up to the tough crutch user.
The Lofstrand brand has been around since the '50's. I know this because it was the first forearm crutch I used. They provided me with good service over the years though not without maintenance. The adjustment holes and the metal cuffs are the parts that wear-out.
The metal cuffs are vinyl covered and come in two styles: front or side opening. Please note your preference when ordering or we will assume you want the more common front opening style. The handgrips are made of solid vinyl and have finger notches on the bottom for easy gripping. There is a locking nut to keep the crutches silent. The adjustment locking pins utilize a stainless spring steel mechanism that will not rust.
Crutches are equipped with my Tornado AIR Fatigue-Reducing Crutch Tips ($19.95 value). Or you can order with your choice of other tips using the drop down menu: Tornado Gel Tips ($40.49 value for $10), Tornado Rain Tips ($57.99 value for $20), 
When ordering please fill in the crutch order form and give the X and Y dimensions so we can be sure to get you crutches that will fit properly.

To learn about the X and Y dimensions and some tips on sizing and measuring your crutches, check out our measuring page.
X = 7 1/2" to 8 1/4"  
Child's LOFSTRAND crutches weigh just under 2 pounds each and are rated by the manufacture to safely support a user who weighs up to 250 pounds. 
Item #: 550
Sold as a PAIR
Please allow 2 to 3 weeks for delivery