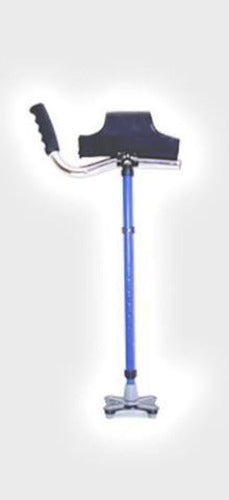 Platform Unifoot Quad Base Platform Adjustable Crutch
Save

$-310.00
Free Shipping on all products within the continental US
This innovative platform crutch is modified to accommodate the needs of people who are unable to put weight on their hands or wrists.
The angle of the handgrip and the distance from the handgrip to the Velcro sleeve is fully adjustable. The height from the floor to the platform adjusts from 36" to 44". Available with the unique Unifoot Quad Base that flexes to conform to changes in terrain yet gives increased stability similar. It is also available with a Tornado Gel Tip. It comes with a rugged epoxy coated finish in blue.
Maximum user weight 220 pounds.
Item #: 540
Price is for ONE Crutch