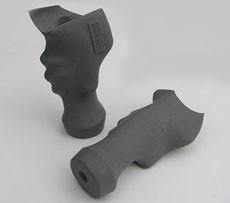 Right Grips Hand Grips Pair
Save

$0.00
Free Shipping on all products within the continental US
Right Grips are ergonomically designed to fit the right and left hand specifically.
The shape of the Right Grips holds the wrist straight rather than having the wrist bend. For about 80% of the people who use the Right Grips, this has been very positive. For the remaining 20%, the grips caused discomfort in the thumbs and had to be switched out for another type.
There is no one grip that is perfect for everyone. Think of all the size and shapes of shoes available to fit our individual needs. I recommend the Right Grips to people who already have wrist pain. The Right Grips, by shifting the load to a different area may allow the body to heal itself. These hand grips were discontinued by Guardian.
Fits 7/8" hand post
Item #: 444
Color: Black
Price is for PAIR