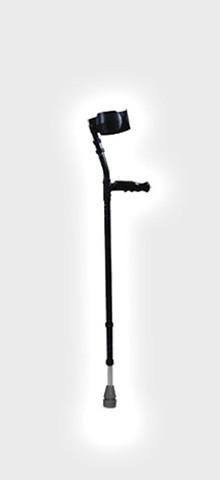 Superlite Adjustable Forearm Crutches (Pair)
Save

$-595.00
Free Shipping on all products within the continental US
Superlite forearm crutches are adjustable to accommodate growth and are fitted with our Performance Gel Hand Grips and Padded Leather Cuff Inserts.
They are equipped with my Tornado AIR Fatigue-Reducing Crutch Tips ($19.95 value) that make them even lighter in weight. Tornado Air crutch tips provide excellent shock absorption so they will protect you from the deleterious effects associated with crutch walking. While not slip-proof, they provide a significant safety advantage on wet, smooth surfaces.
Or you can order with your choice of Tornado Crutch Tips using the drop down menu: Tornado Gel Tips ($40.49 value for $10), Tornado Rain Tips ($57.99 value for $20).
The handle collar and the bottom leg-tube are silver in color. You have a choice of two bright dipped anodized colors: Silver, Black.
Available in Regular or Lo-bend style.
User weight limit 225 lbs.
Please allow 4-6  weeks for delivery
Item #:924
Sold as a PAIR