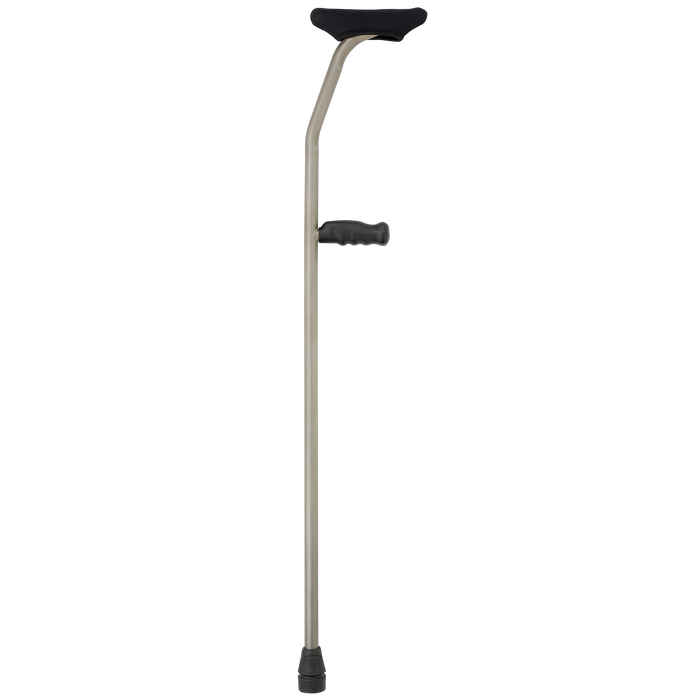 Titanium LiteStix Custom Unipoise Crutches (pair)
Save

$-1,395.00
Free Shipping on all products within the continental US
Titanium LiteStix custom Unipoise crutches are shock-absorbing, light-weight, durable, silent and strong. They come with slip resistant crutch tips and a 10 Year Guarantee.* Price is for a pair.

These elegantly designed single pole crutches are modeled after the discontinued Guardian style Unipoise crutches. They provide you with state-of-the-art comfort, function and good looks. We custom fabricate them to fit your specifications exactly. Like all of our custom crutches they will never make a sound because there are no adjustment holes to egg-out and rattle. They are built-to-last and to make you last.
LiteStix Titanium Unipoise Crutches are made with 100% titanium. Every joint is artfully welded. The entire crutch is formed using our advanced uni-body construction. The handle post is welded directly to the crutch shaft, adding considerable strength and durability and eliminating all rivets, nuts and bolts for a snag-proof, sleek look. When tested by an independent lab, the handle post held a staggering 1870 lbs. Beautifully milled solid brass end-plugs are press-fitted and epoxied into the end holes of the crutch tubes making them water tight and adding quality and richness.
Performance Gel Hand Grips
Providing your upper body with comfort and protection. Finger notches provide a good grip with minimal energy expenditure. Designed to fill the Palmar arch of the hand to reduce fatigue and add comfort. They can be used with either hand.
Tornado RT or Performance RT rain tips
The crutches are available with your choice of Fetterman Tornado RT Rain Slip Resistant Crutch Tips or Performance RT Gel Rain Crutch Tips. These amazing tips are 300% more wet-slip resistant than ordinary tips. While they are not slip proof, they will give you an extreme advantage when walking on smooth wet surfaces. They absorb over 80% of the negative crutch shock and they will last 3 to 5 times longer than ordinary rubber crutch tips.
LiteStix Titanium Unipoise Crutches come complete with your choice of my new Slim-Line or Rubber Underarm Pads. Be sure to state your choice when ordering.
Natural Luster bead blasted titanium crutches will look great indefinitely because there is no anodizing or paint to scratch off and it will not rust or corrode from fresh or saltwater. Titanium's harder surface will not mar as easily as aluminum or paint. Bead blasting enhances titanium's handsome warm tones. Maintain with soap and water then wipe dry with a cloth and apply a coat of wax. Black Powder Coat is a heat baked black enamel finish that while not as durable as Natural Luster, it is easily maintained with a permanent black marker.
To order send us a tracing of your existing crutch and fill in the order form with all your vital statistics. Please measure your crutch carefully according to our measuring instructions and write them on your tracing. Indicate the direction you want your thumb and index fingers to face on the grip; toward or away form the crutch pole. Put measurements on the tracing as shown on the order form. Keep a copy for your records.
* Titanium LiteStix Custom Unipoise Crutches are covered by a 10 Year Guarantee on the titanium crutch body, handle post, and post assembly.
Click for directions about how to measure for custom crutches.
Maximum user weight 350 pounds.
Allow 6-10 weeks for delivery.