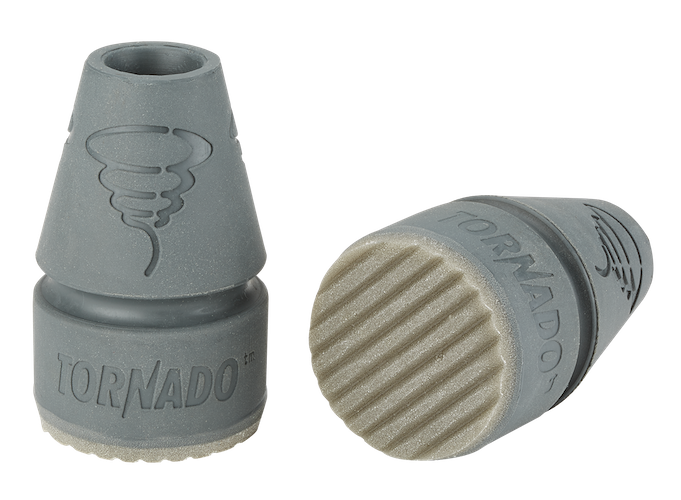 Tornado Tips SBR (Solid Body Rain Tips) (pair)
Save

$-41.99
Free Shipping on all products within the continental US
Tornado Solid Body Rain Crutch Tips have all the same great qualities as our Tornado Tips SB tips, superior flexibility, better ground contact, and longer wear, with highly improved wet-slip-resistance on wet surfaces. Tornado Tips Solid Body Rain Tips have our proprietary rain disk formula bonded over the tread making them over 300% more wet slip resistant than any rubber tip we have tested. They have excellent traction on dry surfaces as well.
The addition of the Rain Tip will only increase the height of the tip by 3/16". While not slip-proof, the Rain Tip will greatly reduce the number and severity of crutch-related falls caused by wet smooth surfaces.
If they keep you from falling just once a year wouldn't they be worth the extra cost? Because there is no Absorbalite ™ gel inside, the Tornado Tips SBR will not protect your shoulders like its famous brother the Tornado RT. However, unlike ordinary tips, our steel disk cannot be ejected through the sidewall of the tip and cause premature failure. These tips out-wear ordinary tips 3-4 times over.
Tornado Tips SBR tips have a 2" base diameter and weigh 4.6 ounces each.
Fits crutch shafts from 3/4" to 1"
Item #:942SBR
Color: Gray w/ gray tread
Please contribute just $5.00 to give a pair of super-durable Peace Crutch Tips to our fellow lifelong crutch users in Developing Nations. They will be grateful for a very, very long time.
Please go to our Peace Crutch Tip Program to donate...it only takes a minute.
For our Canadian Tornado Crutch Tip customers: Please check our tips out on Amazon.ca
---
Unsure about which tips to order? This chart offers a useful comparison so you can find the right Fetterman Tips for you.