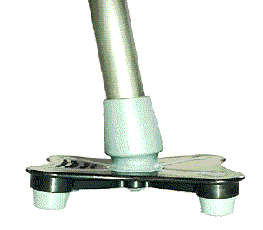 Unifoot™ Quad Base Crutch Foot Attachment
Save

$-63.95
Free Shipping on all products within the continental US
Unifoot for canes and crutches are a rugged quad foot attachment that gives stability and balance.
The Unifoot has a universal joint action that enables it to maintain four points of contact with the ground even on steep grades. The lightweight base measures 4-1/2" x 3-1/2" and gives excellent stability and traction even on wet surfaces.
It also allows a cane to stand by itself on level surfaces. Unifoot works well with crutches too when more stability is needed then a single point tip. Imported from New Zealand.
Item #:345
Price is for SINGLE attachment