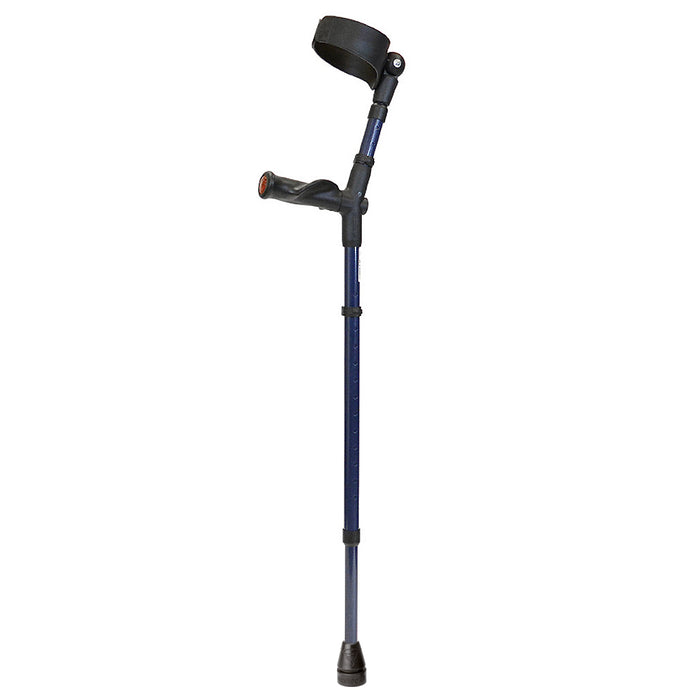 Walk Easy Model 495 Adjustable Forearm Crutches in BLACK (pair)
Save

$-228.00
Free Shipping on all products within the continental US
Walk Easy model 495 is an economical adjustable forearm crutch that comes in many colors. This European aluminum lightweight crutch weighs in at slightly less than 2 pounds per crutch. The Ergo Grips fit the right and left hands individually so the crutches cannot be switched from hand-to-hand. The grip holds the hand so the wrist is not bent as much as a regular grip. The grips are also tilted up so the weight tends towards the heel of the hand where there is the most padding.
Crutches are equipped with my Tornado AIR Fatigue-Reducing Crutch Tips ($19.95 value). Tornado Air crutch tips provide excellent shock absorption to protect hands, arms, and shoulders from the deleterious ground impact forces. Tornado Air tips are flexible to engage the tip's full bottom with the ground for positive traction. While they are not "slip-proof," they will give you a significant safety advantage on wet smooth surfaces.

Crutches also include Padded leather cuff inserts (a $47.95 value)
Or you can order with your choice of other tips using the drop down menu: Tornado Gel Tips ($40.49 value for $10) or Tornado Rain Tips ($57.99 value for $20).
Available in Black.
Height adjustable grip to floor from 29 1/2" to 41 1/2" and grip to top of cuff from 9 1/2" to 11 1/2".
User weight limit is 300 pounds.
Please allow 2 to 3 weeks for delivery
Price for a PAIR