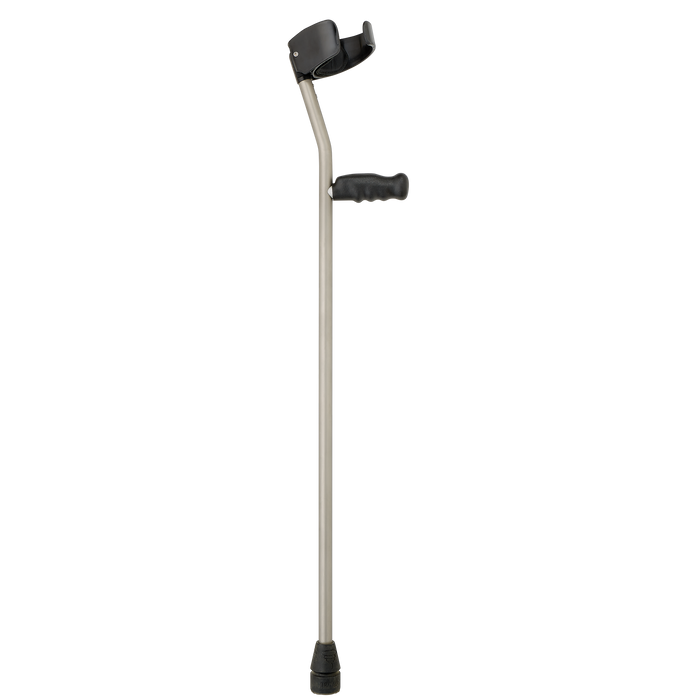 Titanium LiteStix Custom Made Forearm Crutches (pair)
Save

$-1,395.00
Free Shipping on all products within the continental US

Titanium LiteStix Custom Forearm Crutches are shock-absorbing, lightweight, durable, silent, and strong. They come with slip-resistant crutch tips and a 10-Year Guarantee*. Sold as a pair.

LiteStix titanium custom-fitted forearm crutches are made using our advanced construction. Our newest improvement is our handle post that is mechanically attached directly to the main body of the crutch. There is no handle collar held on with rivets to loosen and fail. We build them to your exact needs and specifications. Follow our simple but detailed measuring instructions and you will have the best fit for you. If you require just one crutch or two crutches with different measurements, it is not a problem for us. Titanium has the ability to flex under dynamic loading. It absorbs shock and dampens vibration to protect our upper body for the long haul. Plus you get the shock-absorbing qualities of our gel-filled crutch tips and handgrips.
LiteStix Arm Cuff
The broad back of the cuff cradles the arm giving a great deal of support. It tapers down at the front to minimize the appearance on the front of our forearm. This most recently designed LiteStix cuff has the lines of a race car. It took me over a year and $30,000.00 to produce this cuff. Made of solid black 606 Nylon, it is super durable and handsome. It hinges onto a machined nylon post. I prefer the side-opening style cuff because they hook over the forearm and hang on tight. This enables the active use of our hands without removing the crutch. For the die-hards, I can make the cuff front opening. These great new cuffs are available in small, medium, large and extra-large sizes for a proper fit. If one of your cuffs breaks within the 10 year guarantee period, we will send you a free replacement cuff and you just pay the postage.
Leather Cuff Inserts
Padded leather cuff inserts are a closed cell sponge wrapped in natural black leather to cushion the back of the forearm and absorb perspiration. Held in place with Velcro, they are easily removed for swimming, showering, or for extra cuff room to accommodate a bulky winter coat.
Performance Gel Filled Handgrips
The right handgrips provide your hands and upper body with comfort and protection. Finger notches provide a good grip and control with minimal energy expenditure. Performance grips are designed to fill the Palmar arch of the hand to reduce fatigue and add comfort. They can be used with either hand.
Tornado RT or Performance RT Rain Tips
The crutches are available with your choice of Fetterman Tornado RT Rain Slip Resistant Crutch Tips or Performance RT Gel Rain Crutch Tips. These amazing tips are 300% more wet-slip resistant than ordinary tips. While they are not slip proof, they will give you an extreme advantage when walking on smooth wet surfaces. The Absorbalite core absorbs over 80% of the negative ground impact force. They will wear 3 to 5 times longer than ordinary rubber crutch tips.
Because our custom-built crutches have no adjustment holes to egg-out and rattle, our LiteStix crutches will never make a sound! Everyone sees me coming but I hate it when they can hear me coming too. The Absorbalite gel that we use inside our crutch tips and handgrips is very dense and heavier than rubber. We firmly believe that our gel's shock-absorbing ability is far more essential to the health and long-term crutch user mobility than a small difference in weight that goes unnoticed after a few days of use.
Two Finish Options
Natural Luster bead-blasted titanium crutches will look great indefinitely because there is no anodizing or paint to scratch off. Another benefit of titanium is that it will not rust or corrode from fresh or saltwater. Titanium's harder surface will not mar as easily as aluminum or paint. Bead blasting enhances titanium's handsome warm tones. Maintain with soap and water then wipe dry with a cloth and apply a coat of wax. Black Powder Coat is a heat-baked black enamel finish that while not as durable as Natural Luster, is easily maintained with a permanent black marker.
* Titanium LiteStix Custom Forearm Crutches are covered by a 10 Year Guarantee on the titanium crutch body, handle post, arm cuff, and post assembly.
If you want some fun with the color and finish of your forearm crutches check out our Crutch Skins.
Click for directions about how to measure for custom crutches.
Maximum user weight 350 pounds.
Allow 6-8 weeks for delivery