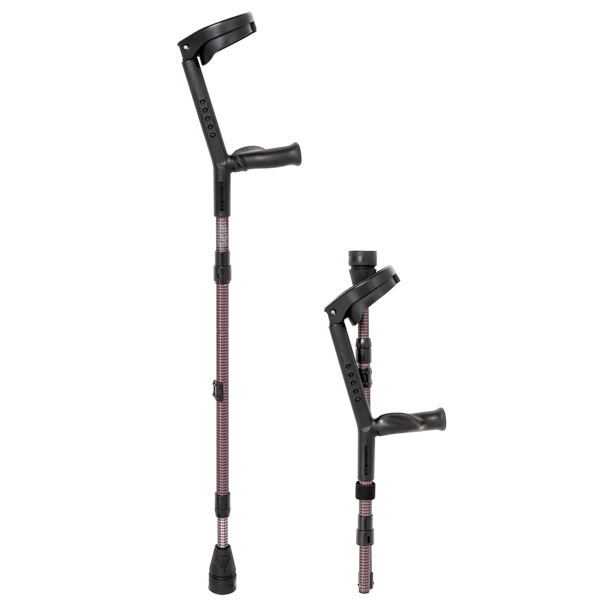 O.P.O. Folding Forearm Travel Crutches (Pair)
Save

$-425.00
Free Shipping on all products within the continental US
You'll want them for the way they look. You'll love them for the way they function.
These sleek Italian imports are incredibly lightweight at just 1.5 lbs. each. Their hinged, articulating front opening arm cuffs make them easy to use. Two easy-access clip pins let them adjust from 40" to 48" in length. The "Y" measurement (handgrip to the floor) adjusts from 30" to 39".

Now here's why I think you'll love them. Each crutch folds in half to a length of 22" and can slip into a slick fabric drawstring travel bag to tuck into a suitcase or stow in the overhead bin on an airplane. The internal elastic cord ensures that the sections can't separate from each other, and the cord makes reassembly a breeze. The sections snap and lock together automatically so the crutch tips will not rotate as you walk. 

O.P.O. Folding Forearm Crutches are equipped with right and left-handed soft anatomical handgrips that can be replaced when needed. These handgrips feature a reflector for nighttime visibility and your safety.
Crutches are equipped with my Tornado AIR Fatigue-Reducing Crutch Tips ($19.95 value) that make them even lighter in weight. Tornado Air crutch tips provide excellent shock absorption so they will protect you from the deleterious effects associated with crutch walking. While not slip-proof, they provide a significant safety advantage on wet, smooth surfaces.
Or you can order with your choice of other Tornado Crutch Tips using the drop-down menu: Tornado Gel Tips ($40.49 value for $10), Tornado Rain Tips ($57.99 value for $20).

Designed for adults. User weight limit 225 lbs.
Item #:155
Color:  GRAY
Sold as a PAIR
Please allow 3 to 4 weeks for delivery