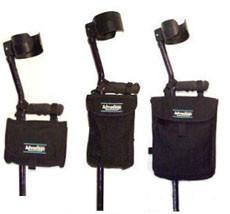 Advantage™ Crutch Bag Hands Free Carrying Bag
Save

$-59.95
Free Shipping on all products within the continental US
Advantage Crutch Bags hang from crutch hand grips so you can carry things while keeping your hands free.
Designed and manufactured by Deborah Frane, Advantage Crutch Bags are yet another example of how necessity is the mother of invention.
Being on and off of crutches for years made Deborah very aware of how difficult it is to carry things when your hands are full of crutch handles. Consequently she invented the Advantage Crutch Bag that attaches to the crutch at the hand grips and the leg of a crutch so the bag doesn't swing and throw off your balance.
The Advantage Crutch Bag comes in three sizes and is made of sturdy black machine washable Cordora Nylon. The Advantage Crutch Bag is both handsome and rugged having a rigid plastic sheet inside to hold its shape and protect the contents making it an excellent attaché case or book bag.
Color: Black