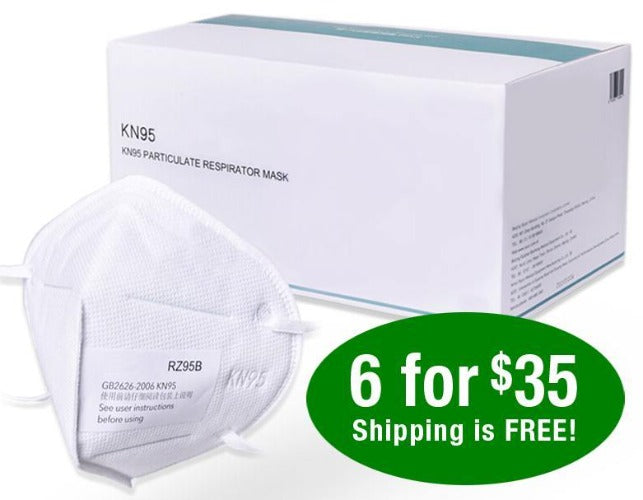 SAVE $15! Kn95 Particulate Respirator Mask, (6 masks)
Save

$15.05
Free Shipping on all products within the continental US
These Kn95 masks block up to 95% of particles .3 microns and larger, drastically reducing respiratory risk by wearers and are available in the quantities required by stringent quarantine standards guiding most health organizations in the US right now.
Because we know our customers need these masks now, we've partnered with vetted, established factories who have certified their products to the 95% standard through accredited laboratories. Every shipment is from a factory that has been visited by our distributor's staff and whose credentials have been carefully inspected and verified by a US operations team.
These masks should not be used by medical professionals.
Please note: your equipment will ship with minimal packaging in order to facilitate faster, more affordable shipping methods. Additionally, the actual product may different slightly in appearance; technical specifications remain the same.
GB/T 32610-2016
Performance parameters:
1) Unfold size: (17.5±1)×(17±1) cm
2) Breaking strength of mask belt: ≥10N
3) Filtering efficiency: BFE ≥95%
4) Pressure gradient: △p ≤49 Pa/cm2(between outside and inside)
5) Microbial content: bacteria-free
6) Ethylene oxide residue: ≤10 μg/g