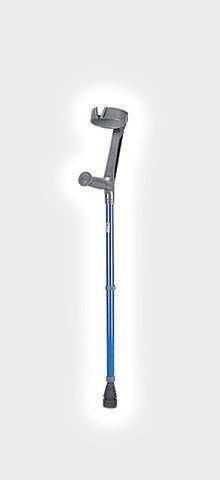 Walk Easy Model 471 Adjustable Forearm Crutches in Colors (pair)
Save

$-119.95
Free Shipping on all products within the continental US
Walk Easy model 471 is an economical adjustable forearm crutch that comes in many colors. Epoxy-coated adult forearm crutches with 4" diameter full cuff featuring a V-shaped front opening for quick release, in a fixed position 8-3/4" above the solid plastic hand grip. I also install a pair of Tornado GT (Gel Tips) on every pair of Walk Easy crutches we sell. Tornado GT crutch tips are super durable…you will be amazed how long they wear. They are hand fabricated in the USA with a built-in shock absorbing center made of Absorbalite Gel. This gel eats up to 80% of the negative ground impact forces that otherwise would be absorbed by your body. They are very flexible and articulate to engage the full bottom of the tip with the ground for positive traction. Tornado tips are comfortable to the extreme and represent a $29.95 value!
Crutches can take up to 2 weeks to ship
Colors: Black, Burgundy, Deep Blue, Fire Brick Red, Forest Green, Granite Gray, Lavender, Neon Green, Neon Pink, Pastel Blue, Pastel Gray, Pastel Pink, Purple, Royal Blue, Teal, White, Yellow (Colors subject to availability.)
Height adjustable grip to floor from 29 1/2" to 39 1/2".
User weight limit is 265 pounds.